Serving Oklahoma City and the Surrounding Area | Call Us Today!
You dream it -
We capture it
We bring you the latest trend in interactive, personalized party favors at events and parties. Rockin' parties in Oklahoma City since 2010, PicStories provides a custom keepsake and party entertainment. We are the life of the party! Call us today for a photo booth package to fit any budget.
Perfect Photobooth Events
Bar and Bat Mitzvahs

Wedding Receptions

Corporate Events & Meetings

Proms

Holiday Parties
Non-Profit Galas

Graduation Parties

Birthdays

Reunions

The possibilities are endless!
Frequently Asked Questions
& OTHER NEAT THINGS
Does PicStories travel outside the Oklahoma City area?
---
Absolutely! We travel all over Oklahoma, and even out of state. We've been to Fayetteville & Bentonville, Arkansas (You may have seen us at the Annual Fashion Show compliments of Mertins Eye), Texas and many other locations. Travel fees may apply, so just call us! The most common locations are OKC, Tulsa, and Shawnee, but we go wherever there is a need for flipbooks or photobooths.
---
What do you need to set up flipbooks or a photo booth at an event?
---
We prefer a 10' x 10' area (12'x12' area for green screen), but this can be flexible depending on the layout of the venue. We also need one dedicated standard wall outlet. It is great if the venue can provide us with two 6 foot tables (skirted to match the rest of the party), but we have tables if necessary. If your event is outdoors, please notify us in advance.
---
If there's a large group of people in a flipbook, can each participant get a copy of the flipbook?
---
Yes and no. It is very rare for there not to be a long line of people waiting to do make a flipbook. It takes about 90 seconds to make each flipbook, so printing 4 books would cause the next people in line to wait 6 minutes before we can even start shooting their video. To be fair to all guests, we print 2 books per video.
---
How many flipbooks can you make per hour?
---
About 45-50. If this is not enough books for your event, we can double that with a second system for an additional fee.
---
How many people can fit in a flipbook?
---
There's really no right answer to that. Consider several things...It may be possible that not everyone will get a copy. The more people in a flipbook, the less movement can take place. The whole fun of the flipbook is to dance and act goofy, so you want to have some space. A good number is 3-4 people, but you are welcome to have more.
---
What venues has Picstories been to?
---
I won't list them all, there's just too many... To name a few: The Mayo Hotel, Devon Boathouse, Cowboy Hall of Fame, Conocophillips Alumni Center. At one event, there was even an old Delorean-the theme was "Back to the Future!"
---
What in the world is a robot/roaming photobooth??!
---
Watch and be amazed!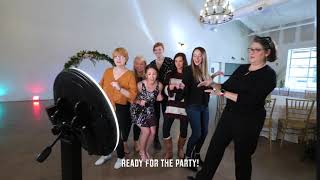 ---
Aren't flipbooks and photobooths the same thing?
---
No, flipbooks are a more interactive version of photobooths. You can actually do a skit in a flipbook during your 7 seconds of video. Our software breaks down that video into still shots that re-create your skit when you flip through it. However, both flipbooks and photobooths are very fun for any event!
---
---